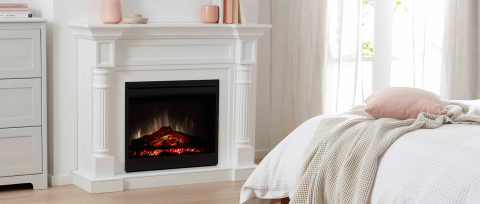 The benefits of electric heating: A Dimplex style for every person and every room
3 min read
Here at Dimplex, we know there's nothing quite like a fire. The comfort, the cosiness and the warmth all have the power to turn any room into a sanctuary of rest and relaxation. Of course, you can get all of these incredible benefits without committing to a real fireplace; in fact, we'd say electric heating is even better as you also don't need a constant wood supply, there's no fuss of cleaning the soot and dust and there's none of the costs and building work that comes with flue and gas connections. Most of our products require little to no installation and have incredible flames and a warm glow in your living space from the flick of a switch.
Designed to suit many home styles, from more traditional and classic styles to ultra-modern and sleek looks and four flame types to choose from, with Optiflame, Opti-myst, Revillusion and Prism to create that perfect fire look for you. So, whatever your taste and budget, a Dimplex electric fire will certainly bring your home to life. For almost 70 years we've been the leading brand for electric heating, so if you can trust anyone, trust Dimplex.
Portable fires
Want a quick and easy heating solution? Our portable heaters provide instant comfort during the colder seasons. Our range of portable electric fires are completely moveable which means you can position them almost anywhere in your home, just move them around from room to room. All you need to do is choose the one that's right for you, plug it in and enjoy!
Wall-mounted fires
Add fire to your living space without the need for a hearth or mantel with a Dimplex wall mounted electric fire. They're perfect for adding eye-catching detail to any room for those who don't have the floor space for a large fireplace. The realistic and mesmerising flames are the perfect conversation starter.
Suites
Mini suites
If you've got a smaller room but still want the alluring glow of a fire, then our mini electric fire suites will tick every box. They're compact, don't need to be mounted on a wall and they come fully assembled so there's no fuss. Although they're small in size, they're sure to be the centre of attention in any room with the look and feel of a real fire.
Complete suites
If you're looking to completely redefine your space with a full mantel of your choice then our range of electric fire suites are the answer. A complete suite will provide the look and feel of a real fire with no flues or special venting, you can just connect them to the power supply in minutes for quick and hassle-free installation in your favourite space. Take your pick from a huge range of styles for the suite that will compliment your interior.
Fireboxes
Our firebox range is the perfect opportunity for you to create your own masterpiece. They come without a mantel so that you can completely customise the look or fill in an existing fireplace with a more modern feature using state-of-the-art Optiflame and Revillusion technology. 
So, which electric fire is right for you? Whichever one you choose, you know you'll have the best in ultra-realistic flame technology, sleek designs and super easy installation.
View our entire electric heating range here: https://www.dimplex.com.au/en-au/electric-fires-range

Electric fireplaces - the ambience of a traditional woodfire, none of the hassles
"Humanity has been fascinated by fire since ancient times, when we discovered it kept us warm and helped us to cook. Eventually, better fireplace designs transformed fire into a symbol of prosperity utilised to enhance the aesthetic of any space… at a cost."
4 mins read