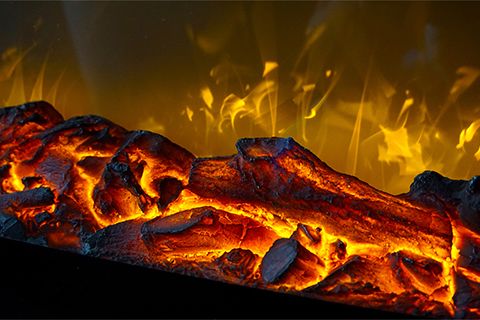 Electric fireplaces - the ambience of a traditional woodfire, none of the hassles
4 min read
"Humanity has been fascinated by fire since ancient times, when we discovered it kept us warm and helped us to cook. Eventually, better fireplace designs transformed fire into a symbol of prosperity utilised to enhance the aesthetic of any space… at a cost."
Traditional wood fires bring with them the need of a constant wood supply, and the routine cleaning of the chimney and flue, amongst other bothersome requirements. Factors like these, pushed technology to mimic the flicker of flames whilst reducing its hassles.

Electric fires began a revolution that changed home heating forever. As a matter of fact, Dimplex was the first to patent and commercialise the world's first truly realistic 'wood burning' flame effect back in 1995. Today, as true pioneers of electric fire realism, our hundreds of fireplace models will bring to your home the wonderful ambience of flames and none of the disadvantages.

Electric fires offers flames as real as traditional woodfires
Faux flame technology has come a long way from its early days. Our range will surpass your expectations for realism with four different flame effects in a variety of designs:

Revillusion uses bright flickering lights, a full grate of life-size hardwood-cast logs, and colour enhancement to create lifelike flames. Fully customisable warm hues allow for true mood lighting in a range of built-in fireboxes or freestanding mantel pieces.

The PRISM series effect illuminates in a full spectrum of RGB colours for a mesmerising view. Showcase the flames and the colour-changing effect with a bed of diamond-like acrylic embers or smooth, white pebbles.

The fully three-dimensional effect of Opti-myst™ uses patented ultrasonic technology to create an ultra-fine water mist, that as it rises up through the logs or coals, reflects the light to create 'flames' and 'smoke'. The result is deceptively real, an illusion so effective it is difficult to distinguish from the real thing.

The original and the world's best selling electric flame effect is now more energy efficient with the use of LEDs. Optiflame® creates the illusion of flames emanating from the centre of an enhanced depth fuel bed to provide a realistic glow, found in a wide selection of our electric fires.

The incredibly realistic flame effect of Optiflame® used in a complete fire suite. The Electraflame® firebox range can be customised with the mantel of your choice for an eye-catching freestanding centrepiece.

Electric fires can be used all year round
It is not only a warm glow that makes a fireplace so appealing, but also the wonderful feeling of comfort and cosiness it brings. To emulate a traditional fire, most of our electric fires come complete with powerful and efficient fan-forced heaters to keep you warm during cold days. However, unlike wood and gas fires, the warmth emanating from an electric fire can be switched off at the push of a button; allowing you to enjoy the ambience of the flames all year round. The same applies vice versa, you are truly in control when you can use the heat and the flame effect independently from each other.

And to keep costs down, the flame effect of our electric fireplaces alone consumes very little power. An Opti-myst™ fire, for example, uses just 212 watts when operating in flame-only mode. Based at an average power price of 28c/kWh, and assuming 5 hours/7 days per week usage, running any Opti-myst™ flame effect for a year will cost you as little as $108! That's less than 30 cents per day!

Electric fires are easy to install, relocate and upkeep
Electric fires are characterised by less fuss: they require no flues, clearances or special ventilation, and maintenance is super easy. In most cases, electric fires don't even require any installation - you can simply plug into a regular household socket and start using straight away, not much different than plugging in a lamp. And when you need to move them to another room or a new home, you can take your furniture piece wherever you need with ease.

Electric fires are safe
The flames in an electric fireplace will look real, but won't burn you if you accidentally touch them. The glass will also remain cool to the touch, ensuring children and pets remain safe if they come close to the fireplace. Electric fires won't contribute to indoor moisture or mould concerns, and features like impact-resistant safety glass or safety cut out with reset controls will give you complete peace of mind.
Last but not least, since electric fires do not use combustibles to produce the flame, you never need to worry about oxygen depletion, carbon monoxide poisoning or smoke in your home.

If you love the flickering light, crackling sounds and cosy atmosphere of a fire, but would rather avoid complex, expensive installation, maintenance, mess and annual servicing fees; then we're sure you'll appreciate the benefits of a Dimplex electric fireplace.