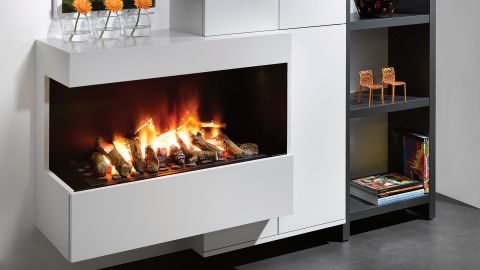 What is an Opti-Myst?
2 min read
There's nothing quite like the effect of a fire. It creates a wonderful feeling of comfort and ambiance. Looking deceptively real, an Opti-myst fire will captivate you from the moment you see it.
The fully 3-dimensional effect uses established ultrasonic technology to create an ultra-fine water mist. As the mist rises up through the logs or coals, the light reflects against the water creating a convincing illusion of flames and smoke. The result is an appearance so authentic it will be mistaken for true flames and smoke.

Revolutionary Technology
The flame and smoke effect is created using ultrasonic waves which atomise water to create an extremely fine mist. This is not steam since the water is at room temperature and, therefore the "flames" are safe to touch. As the mist is so fine it does not add significantly to the humidity of the room.

Realistic Fire Effect
After much testing, Dimplex has fine-tuned the ultrasonic transducer to produce the most realistic flame and smoke effect possible.

Special Effect Lighting
The light bulbs have two functions in an Opti-myst fire. The heat produced enables the water mist to rise up through gaps in the log fuel bed in a flame like manner. They also illuminate the water mist with the orange glow of a real fire. These bulbs are dichroic, enabling an accurate representation of flame-like colour.

Easy to Clean
It is recommended to use filtered water in Opti-myst fires. If tap water is used, a build-up of limescale can seriously hinder the production of flame and smoke effect. However, if a build-up of limescale does occur, the plastic materials used have a highly polished finish to ensure easier cleaning and removal of limescale. The sump can even be placed in a dishwasher. For added peace of mind, an anti-microbial substance has been added into the plastic material used in Opti-myst fires.

Flickering Flames
A small fan blows the water mist out of the sump and over the light bulbs. Adjustments of this fan enable the user to control the size of flame arising from their fire.