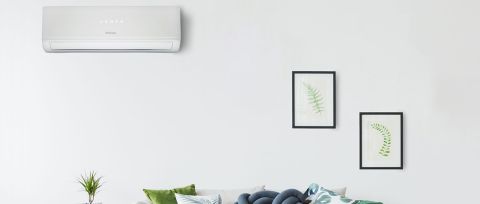 Keep cool on hot summer nights with the best from Dimplex!
5 min read
Australia knows how to turn up the heat and at the height of summer it usually doesn't cool down enough for a good night's sleep. In most relationships you have probably had the fan on/ fan off discussion in the bedroom, and as we head into the hotter parts of summer, it's something to think about again! But with Dimplex on your side, you can still get those precious ZZZ's in. Cool the bedroom easily this summer with our fans, air circulators and split-system air conditioners that run smoothly, quietly and even with shut-off timers for the perfect, uninterrupted snooze.
Fans for the bedroom
Fan on? Well, nothing is worse than a ceiling fan with an awkward squeak that makes a lot of noise but does little to keep you cool, especially when you're trying to sleep. That's why we've designed the sleek and simple Box Fan. Made to be compact, it fits into any corner of the room and can be utilised in the living room during the day. It runs extremely efficiently and quietly, so you can sleep free of distractions and know that your energy bills won't be through the roof! With 5 blades, 3-speed settings and easy-to-use controls on the rear, this box fan will cool the bedroom quickly and quietly for the perfect night's sleep all summer long.
Air Circulators
If you want to take your night-time cooling and comfort up a notch then our Air Circulators are here to help. With WhirlTech temperature regulation technology they work for any season and offer more benefits than a traditional fan. Our Air Circulators can be used to circulate cool air from air conditioners, hot air from heaters, or to help keep rooms fresh by circulating stale air with fresh air. And with a sleep mode, they run smoothly and quietly so you'll easily find comfort! Plus with five cooling speeds and two heat settings, our Heat & Cool Air Circulators can cool and heat your space with little impact on your energy consumption so you can sleep soundly.
Split System Air Conditioners
For those who take their sleep seriously, and all their temperature requirements throughout the year, our range of iSeries Inverter Reverse Cycle Split System Air Conditioners are the ultimate coolers, and heaters! They're designed to cool and/or heat the room they're installed in, to within a 0.2 degrees thermostat accuracy. With different capacities to suit different rooms, automatic power off options, swing function and quiet operating systems you can fall asleep in minutes to the perfect temperature and never have to deal with sweaty or shivery nights again!
We've got options for every person, and every home, so get a good night's sleep this summer with Dimplex and never look back. Read more on our website or contact us to find the best cooling solutions just for you this summer!