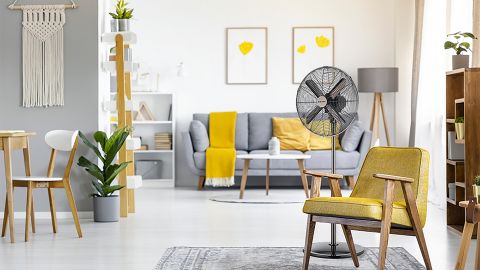 How to Choose a Fan to Keep You Comfortable This Spring
3 min read
Spring has sprung! Although it's not hot enough yet to have your air conditioner working all the time, you are probably beginning to consider alternative low-key cooling solutions to keep you comfortable. In that case, look no further than pedestal fans. They have been used as the cheapest and easiest method of cooling in hot countries for decades.

Do fans actually cool down the room?
Not exactly. They don't cool down the air but instead just move it around. Then, why do we feel the cold? The answer is simple: the moving air creates a chilling effect on the skin which makes us feel colder.

4 things to pay attention to when choosing a pedestal fan

1. Steadiness of the base
Steadiness is a significant safety factor to consider. If you have kids or pets, they are likely to trip a fan over which can cause damage to the fan itself or to its surroundings. There are two common types of pedestal fan bases: x-shaped and round. A round base is considered steadier, and therefore safer for your family.

2. Speed settings
Choose a fan with a number of speed settings. If you plan to use your fan only for small spaces (bedrooms, bathrooms, etc.), two speed settings are enough. As for areas bigger than 20 sq.m, at least three settings are recommended. The higher the speed, the more air goes through the fan in a given timeframe.
As an example, check out our new 40 cm Multidirectional Pedestal Fan. Not only does it have 3 speed settings to choose from, but also a remote control to switch between them effortlessly.

3. Number of blades
More blades equal greater productivity! A common number of blades is between three and five. We recommend you to have a look at our new Multidirectional Pedestal Fan. It features a 5-piece blade and up to 360-degree horizontal oscillation – that means even more air movement, in multiple directions!

4. Noise level
Are you a light sleeper fed up with lying in bed on a warm night while a loud fan buzzes away? Then you should consider a quiet fan, so your sleep will not be interrupted. If the fan's noise level is under 57 decibels, it is quiet enough for someone to watch television, listen to music, or even sleep with the fan on. Our new fans are super quiet (just 55 dB) – click here to find out more!

If you are still unsure what fan is for you, you can take a look at our full range. So, keep in mind the benefit of fans for a cheap and hassle-free option for keeping you cool as the weather warms up.