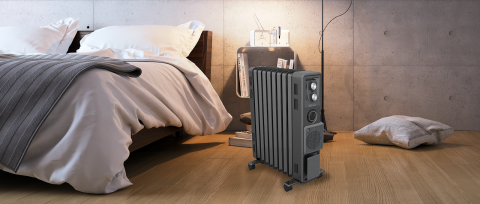 The eco-friendly way to heat your home: Oil-Free Column Heaters
3 min read
It's becoming much more common to make changes in our lives, big and small, to reduce our impact on the planet. There is no planet B after all. But did you know that you can still make eco-friendly choices when it comes to choosing a heater for your home?
If you're conscious of the environment, then our Oil-Free Column heaters look like a traditional oil heater, heat up your home just as well but they have one huge difference: they contain no oil. This means they're much more energy efficient when used to heat your living space to 20 degrees celsius and are 30% more effective than oil. But, what are the other benefits?
They heat up much faster
By removing the oil, electricity is immediately converted into heat without having to wait for the oil to reach the desired temperature, so they use much less energy to get to the same temperature and even heat up (and cool down) faster than regular oil heaters - up to 8x faster to be exact! This makes it easier to control the temperature of the room as you'll be able to notice the difference they make straight away and so you can then adjust accordingly. This also makes them the better option for homes with high ceilings, open plan rooms and larger spaces that need heating up quickly. 
They're easy to transport
Because there's no oil, the appliance also becomes 10% lighter. This makes it easy to move from room to room as you switch up your evening plans, from cooking a meal in the kitchen to relaxing in front of the TV in your living room. They're also easy to move because they have a free end panel with a handle and storage which keeps the cable neat and tidy. 
They're much safer
Oil-free Heaters tend to be much safer than their oil-filled counterparts because there's no risk of the oil leaking a flammable substance which could then lead to harm to you, your home or your family. Safe for you, safe for the environment. 
They're eco-friendly
An Oil-Free heater not only offer up to 9% energy savings compared to an Oil-filled variant, but it also has a much smaller carbon footprint and has no special recycling requirements - so when it comes to getting rid of the heater once it has reached the end of life, you can just recycle it with no hassle.
So, if you're looking for a way to heat your home with greater performance, ease of use and sustainable heating that doesn't harm the planet, then the Dimplex Oil Free Column Heater is for you.