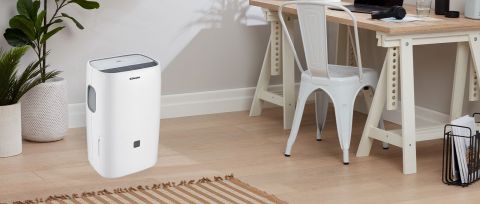 Dehumidifiers and how they can be used for different Australian climates
4 min read
Australia might be known for its different climates, varying from tropical to temperate depending on where you're sitting on the map. Did you know that a dehumidifier can benefit everyone, no matter the season or how hot, warm or humid it is where you live.
Dehumidifiers pretty much do as the name suggests. They remove excess water from the air around them, reducing humidity and condensation. Why is this important? even if you're not in an extremely humid climate, moisture can still increase pollutants, allergens and bacteria, helping them thrive. Dehumidifiers main benefit is to change the humid air (and homes) into healthier, drier and more comfortable, by reducing damp, mould and mildew and the musty odours that can sometimes come with them. They also remove impurities in the air that can trigger allergies which makes them great for people that suffer from hayfever, have asthma, eye irritations, animal allergies and any other allergic reactions. Plus, did you know? By getting rid of mould and dust with a dehumidifier, you're also eliminating things like silverfish, cockroaches, and spiders!
For warmer climates
If you live in a naturally warm, humid and sticky climate, a dehumidifier can cool down your home quickly, make it more comfortable and by doing so, reduces your air conditioner use - which in turn will save you money on bills!
For cooler climates
Dehumidifiers aren't just for warmer climates. A lot of illnesses and moisture problems can increase significantly during the colder months and a dehumidifier can reduce these quickly and easily.
The Dimplex 25L or 50L Dehumidifier with Electronic Controls
The Dimplex DeHumidifier might just be for you. We have two models to choose from the 25L is great for rooms around 12-30m2 like laundries,  studies or smaller bedrooms and the 50L is better for bedrooms and open plan living spaces and will cover a room size of 24-60m2.
Both sizes can be moved around the home to whichever room needs it the most or to areas that might be more convenient thanks to the lightweight size, castors and carry handle. They remove 25L or 50L of moisture in the air per day,  improving the air quality for the whole family which helps you breathe better. They both have a tank level indicator so that you can work out when it needs emptying, it has an auto-defrost just in case the temperatures drop a little too low and even a filter wash reminder that lets you know when the filter is clogged and needs changing or cleaning out. A little tip: before using your dehumidifier, make sure to vac the room to prevent initial clogging. With the  preset modes (continuous, living room and bedroom) it makes using it an absolute breeze - just press the function that you want and you're good to go!
If you think a dehumidifier will make a real difference in your home, you can view our dehumidifier range here: www.dimplex.com.au/en-au/air-treatment-range/dehumidifiers

All About Dehumidifiers
Households in winter can become excessively wet. Cooking, showering, clothes drying, poor ventilation and even breathing can contribute to a damp home. Dehumidifiers control humidity to protect your health and home furnishings. They also help make your home cheaper and faster to heat by removing excess moisture.
2 mins read