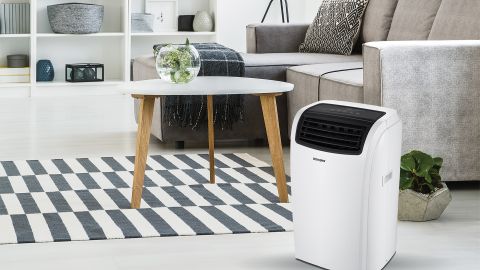 Considerations When Buying a Portable Air Conditioner
2 min read
Portable Air Conditioners are a great alternative to split systems. No difficult installations, a cheaper alternative and is a portable unit (check out our Benefits of a Portable Air Conditioner blog for more information). Before buying yours there are several things to consider first:
1. Size
What is your room size? The size of the main room you will be using your portable air conditioner in will determine the cooling capacity you will need. As a rule of thumb 10m2 equals a 1kW recommended capacity. For example if you have a 30m2 sized room then you would want a 3kW Portable air conditioner.

2. Noise
Portable air conditioners can be noisy as all the cooling and heating components are housed in the portable unit. Usually there is a decibel rating that can give you an indication of the noise level of the unit but if you are unsure ask your local retailer if you can test one in store before buying.

3. Ducting
Portable air conditioners don't require difficult installations to be used but they will require external ducting for operation. Your portable air conditioner will need to be placed near a sash or sliding window suitable for the exhaust hose to appropriately duct.

Tip: Portable air conditioners are great to cool rooms between 0 to 40m2, and work better with rooms that are more closed off. Closing all doors, windows and curtains to block any drafts will also dramatically improve the cooling efficiency of your portable air conditioner.